Wahsure Cable Gland - 50 Pack PG11 Plastic Waterproof Adjustable 5-10mm Cable Glands Joints With Rubber Gaskets, Black (PG11)
Material: Nylon66, 94V-2 and tight ring from rubber.
Feature:I .Special designation, good strength aile and none damage to electrical machine.
2 .not need to dismetgrate the fix terminal, cable tie can be inserted hrough directly then tighten easy and save time.
Application: used for machiery cotrol box, distribution plate, machine and electrical. etc.
Item
Material

Nylon66, 94V-2 and tight ring from rubber.

Operation

  -40 degrees to 85 degrees

Certifications

UL、ROHS、CE、REACH

Size(mm)

22 mm

Quantity

50

Color
UV Black
Returnable

90 DAYS

Manufacturer Warranty

1 Year Limited
| | | | | | |
| --- | --- | --- | --- | --- | --- |
| Item No. | L1(MM) | Cable range(mm)  | L(MM) | Spanne Size (mm) | L2(mm) |
| HS-PG11 | 8 | 5-10 | 27 | 22 | 18 |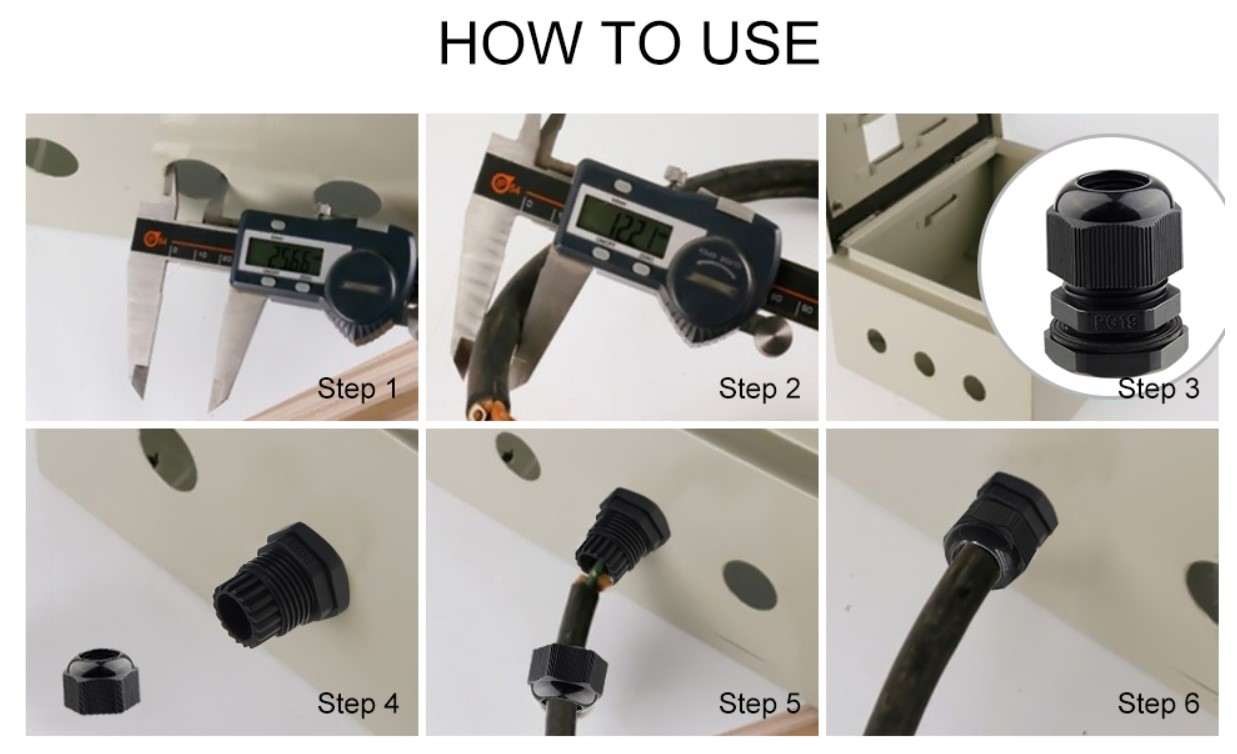 FAQ:
 Q:I need one for cat6 cable which already has the termination rj jack on the end...will the jack fit through the hole then seal or only the bare cable?   
A:Only the cable will fit. You will have to run the cable and install a new jack. You can get the jacks and crimp at Menards, a supply house, or even on amazon. Very simple installation, hope this helps.
Q:How to convert these to awg? i have to run a 16awg wire in my boat, these sizes are in mm.
A:16 AWG# Diameter (mm): 1.2908 Diameter (inch): 0.0508
Q:is it true you should only use a wire nut once?
A:I have reused them for years. Inspect it first to ensure it is not damaged. Some nuts actually come apart when you "unscrew" them. If the coil inside is loose, discard it. Otherwise reuse should not be an issue.
Q:Stupid question, but inside the plastic cap is metal and I'm capping a live doorbell wire. Is it safe for the wire to touch the metal inside cap?
A: The metal inside is what tightens the wires together and provides the good connection. As long as you don't cut the plastic on the wire but you are fine. Also as an added protection wrap the outside of the wire nut with electrical tape. Good luck!
Q:UL Listed?
A:Yes, UL certificated
Shipping
When your order is shipped, you will receive an email with a tracking number that links to the carrier service website.
We work hard to ensure that all items are received in good condition, and if you've received a damaged item, we sincerely apologize for any inconvenience. Please reach out to our customer service team at (86)19941100855or email us at admin@wahsure.com. We will do all we can to remedy the situation—either by sending a replacement item or by refunding your order—and we'll help you to return the damaged item at our expense.
We do our very best to process and deliver orders as quickly as possible. Wahsure's stocked items will usually ship within 1 business day. Depending on your location, you should receive these items within 3 to 10 business days. However, processing and delivery timeframes can vary significantly depending on the product.