Wahsure Wire Clips (100 Pack) Circle Nail Clips 2/5 in(10mm)-Black supporing Coax cable clips
●Ideal for office, residential, and professional installations
●Helps keep your cable routing neat and organized
●Averts damage to the cables and eliminates tangles
●Circle cable clips allow you to secure runs of round cables like Coax to walls and floorboards for a cleaner look and prevent tripping over loose cables
●Quality at a Fair Price: Wahsure's rugged design and rigid quality control standards deliver high quality products at fair prices
●Service & Support : You're never on your own with Wahsure products! We have a full team of friendly and knowledgeable technicians available to answer your questions, both before and after your purchase
PE(Black), elasticity and shockresisting 
Package:100pcs round cable clips with 10mm sizes
Inserting type, nail attached in clips, save time and cost
Circle cable clips allow you to secure runs of round cables like Coax to walls and floorboards for a cleaner look and prevent tripping over loose cables
Easy installation
Just use a hammer to nail then to your mounting surface
【18 months free warranty and replacement 】We have confidence in our products. We promise a 30-day money-back guarantee and 18 months of free warranty and replacement. If you are not satisfied, please contact us immediately. Our American after-sales service team is at your service 24 hours, no risk to buy!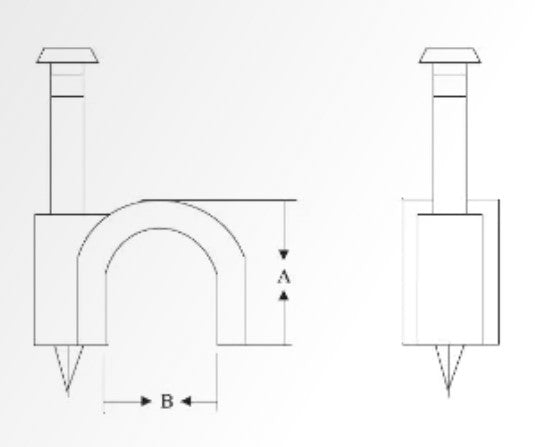 | | |
| --- | --- |
| A High | 11.4mm / 0.45" |
| B Diameter | 10mm / 0.39" |
| Nail (mm)  | 2.3mmx27mm |
| Color/Finish | Black |
| Electrical Product Type | Cable Clips |
| Manufacture | Wahsure |
| Electrical Tools Features | PE |
| Pack size | 100 pcs |
| Package Dimensions | 3.8"x3.5"x0.9" |
| Item Weight | 6.2 ounces |
 Description
Wahsure 100 pcs cable clips with Nails for Cate6, Cate7 flat cable keeping your cable tied up out of the way so your room or office will look .
Tiny Size Orangize and rout cable along baseboards or wood, Run clips in tight sapce around door farame with confidence that they will remain in space.
Nail in cabel clips prodvide and secure placement of Cate5/caat6/cate7 Suppor most cables with 7mm outside diament or samller


FAQ:
Q:Will these work on drywall? 
A:Yes, they work. 
Q:will these last outside in the sun? Are they UV resistant
 A: I don't know if they will or not. I used them outside in the sunlight, I have only had them up for around a year. So far they are fine. 
Q:  will these work on concrete walls?
A:No. They are nails for wood. Can be used on stucco, but not concrete or block walls. 
Q:Now that I know that the product is 10 mm, what size is the Cat 8 cable, please?
A:6.2+-0.3mm
Q:Where are they made?
A:From china.
Shipping
When your order is shipped, you will receive an email with a tracking number that links to the carrier service website.
We work hard to ensure that all items are received in good condition, and if you've received a damaged item, we sincerely apologize for any inconvenience. Please reach out to our customer service team at (86)19941100855or email us at admin@wahsure.com. We will do all we can to remedy the situation—either by sending a replacement item or by refunding your order—and we'll help you to return the damaged item at our expense.
We do our very best to process and deliver orders as quickly as possible. Wahsure's stocked items will usually ship within 1 business day. Depending on your location, you should receive these items within 3 to 10 business days. However, processing and delivery timeframes can vary significantly depending on the product.
If you have any questions about processing time and/or expected delivery timeframes for your order, please don't hesitate to contact us at (86)19941100855