WAHSURE 100 Pack Tie Adhesive Mounts Self Adhesive with Multi-Purpose Tie wire clips with screw hole,Anchor stick on wire holder with Black
Material: ABS,94V-2 Nylon.The back attached
sponge glue imported.
Usage: Peel the sponge glue and stick on
the wall then,bundle the wire with cable ties.
Feature: For bundling wires and other things save time and convenient,used for the wall which can't bemade a hole in.

【Slim Fit and Innovative Design】:This Zip Tie Adhesive Mounts is less than 1 inch and is basically suitable for any place. It is composed of 100 pack fixing brackets. You can use cable ties to fix some cables alone, or you can combine the fixing brackets to fix. It has the latest creative design. More practical! It can be locked by adjusting the sliding band, and the carefully designed sliding mode makes it more flexible and effective when used.  
【High-quality Materials】:The cable tie uses certified UL Nylon66 material, high toughness, anti-aging, not afraid of alkali, oil, UV resistance, good insulation; -40 F to 185 F is not easy to loose after static electricity. The fixed seat is made of ABS fireproof material and reaches 94V-2 grade. The adhesive is made of 3M Reinforced Patented Adhesive, which is safe and reliable and does not fall off. 

【Wide Range of Applications】: Suitable for home, office, garage, workshop, very suitable for indoor and outdoor use. These will help you manage disordered cables, wires, and flexible cords. Keep your cables organized and make your life and work easier.  

【Easy to install and use】:The Zip Tie Adhesive Mounts are fixed by a strong 3M adhesive, with excellent viscosity and durability, no tools, no drilling, and easy to install. Arbitrarily adjust the size to fix the cable. It is also easy to disassemble, and it never destroys the beauty of the furniture.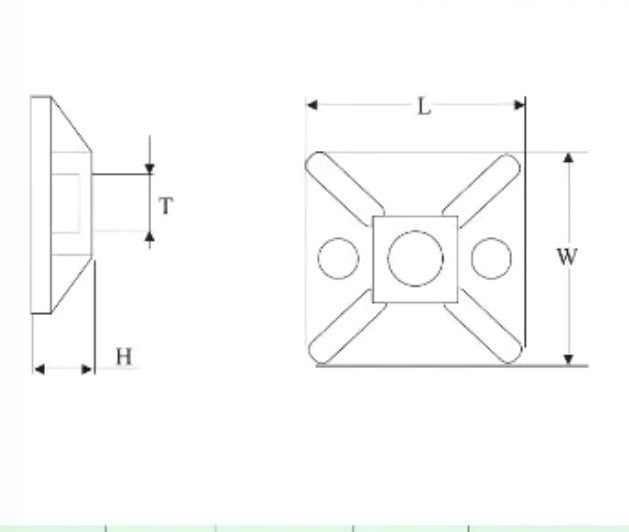 | | | | | |
| --- | --- | --- | --- | --- |
| L: | W: | H:  | T: | Material: |
| 20mm(3/4") | 20mm(3/4") | 6.1mm (1/4") | 2.9mm(1/8") | ABS |
Item Package Quantity:100
Adhesive Cable Tie Base Holders:

Using double-sided adhesive glue and nylon material, good insulation performance, only need to remove the film, can be used directly stick to the ceiling or wall to fix, and then tie the wires with a cable tie.

Cleaner and safer:
If you have a bunch of stray cables hanging around your desk area and such.With these products, you can manage to clean your mass cables up a lot. Make it look nicer, cleaner, and safer.

Cable management set:
They're zip ties, they can handle very large amounts of cables, and you can obviously tie as many of them together.You can place your wiring into wire loom these cable tie do work well as designed.

Save space:
Cable ties & Cable ties bases, Help you manage and fix a variety of cables as per your ideal route, keep your cables, wires and cords neatly and organized.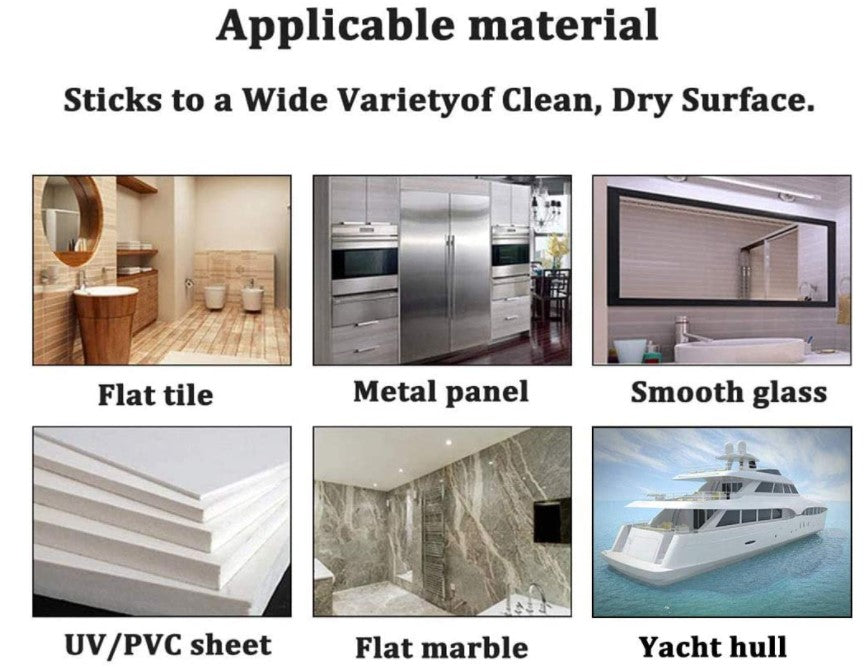 FAQ:
Q:Will the Self Adhesive-Backed hold up outside in all weather?
A:So far, the mounts have worked in all weather, however, I always put a small drop of super glue on the surface to which I am placing the mounts to ensure good adhesion.
Q:Has anyone tried this on stucco? Trying to have skeletons climb my house without drilling in to stucco.
A:Unless the surface is flat and nonporous, it probably won't work.
HIGHLY DURABLE
Flexible enough to secure any shape object while still maintaining strength, our multipurpose zipties are right for you. Highdurability and highly rated, we stand by ourproducts. And if for any reason you are unsatisfied, you can reach out directly to us for assistance!
STRONG HEAD
Want to get a strong zip ties, not only relate to material but a strong ratcheting head,HS make sure quality control every batch of ziptiesthatits strength should have industrial standard.
LARGE VARIETY
One zip tie does not rule them all, we selectwhole series commercial zip ties to meet your different application, from small to largesize, assorted colors, standard package, bulk package.
UV RESISTANT
HS zip ties are made from 100% UV Resistant Nylon 66 giving them excellent durability inharsh conditions.Cable ties without UV inhibitors become brittle and decay when leftin the sun. Our Zip Ties remain strong due toUV inhibitors added to the tie itself.
TEMP RESISTANT
Our zip ties test operating temp is -40°F-185°F, in any condition of weathercold, hot, rain or snow, HS zip ties made to useful ,to all weather condition, indoor and outdoor, from tie garden fence in the summer to hanging lights on christmas tree in the winter, our ties will hold and get the job done!
POINTED TAIL
Easy locking, from thousands of customers using experience, we added a pointed tail function to increase install efficient. Have a bend at the end to help guide the zip tie.
Shipping
When your order is shipped, you will receive an email with a tracking number that links to the carrier service website.
We work hard to ensure that all items are received in good condition, and if you've received a damaged item, we sincerely apologize for any inconvenience. Please reach out to our customer service team at (86)19941100855or email us at admin@wahsure.com. We will do all we can to remedy the situation—either by sending a replacement item or by refunding your order—and we'll help you to return the damaged item at our expense.

We do our very best to process and deliver orders as quickly as possible. Wahsure's stocked items will usually ship within 1 business day. Depending on your location, you should receive these items within 3 to 10 business days. However, processing and delivery timeframes can vary significantly depending on the product.
If you have any questions about processing time and/or expected delivery timeframes for your order, please don't hesitate to contact us at (86)19941100855