Wahsure 150 PCS Solder Seal Wire Connectors, Heat Shrink Butt Connectors, Waterproof and Insulated Electrical Wire Terminals, Butt Splice
Color:
Yellow、Blue、Red、White
✔️ EASY AND FAST PROCESS: All-in-one step solder and seal process. No need for crimp tools and soldering machine. Timer and mess saver
✔️ WATERPROOF AND INSULATION: Dual-walled design - Outside Polyolefin tubing provides insulation and improves pullout strength; Hot Melt Adhesive & Solder inside ensures wires tightly connected and avoids wires slipping out of the terminal
✔️ STAY ORGANIZED: Our connectors come within a storage box, easy to store and carry. Color-coded tubing makes it easy to identify the right size of the connector for every application. The connector assortment includes white (AWG 26 – 24), red (AWG 22 – 18), blue (AWG 16 – 14) and yellow (AWG 12 – 10) solder seal connectors that can be used on wire AWG from 26 to 10.
✔️ WIDE APPLICATIONS: Shrinking ratio: 2:1. Ideal used for Automotive, Boat, Marine and other Outdoor Applications
✔️ WAHSURE BRAND QUALITY COMMITMENT – We stand behind the quality of our products. If for any reason you are not satisfied with your purchase, please contact us. We provide 30-day money back and 12-month warranty. 100% Satisfaction Guarantee for risk-free shopping!
Easiest wire connector on the market

WAHSURE solder seal connectors will make your wire connection waterproof just in seconds.

Also it applies some mechanical damage protection and prevents wire corrosion!

Our connectors are an irreplaceable tool for fast, reliable and effective wire connection in any place and are appreciated by handymen all over the world!
Item

Contact

 Material
Tin
Insulation Material Type
Polyethylene
Certifications
UL, ROHS, SGS, ISO9001-2000
Product Length(in.)
10
Quantity
150
Color
White,Red,Blue,Yellow
Returnable

90 DAYS

Manufacturer Warranty

1 Year Limited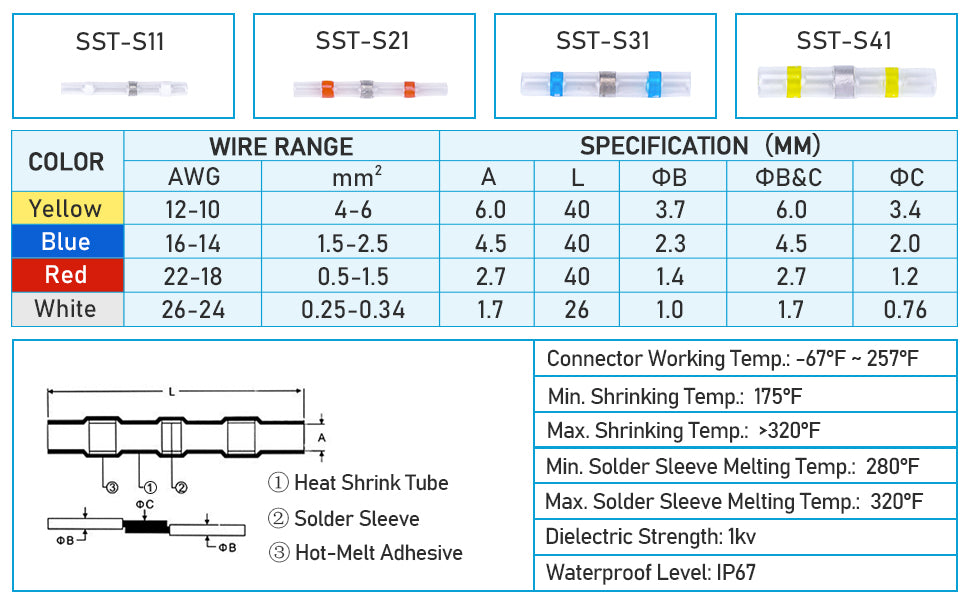 Evenly Shrinking
Evenly Shrink when heated, no deformation or burn.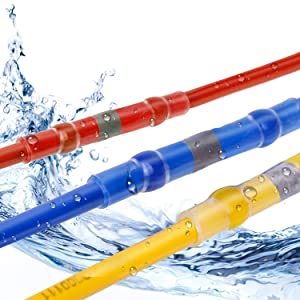 Waterproof
2 ends completed sealed after shrinking, waterproof.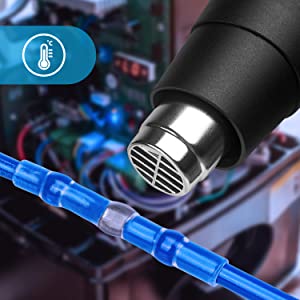 Heat with a Heat Gun
Please heat with air heat and avoid using lighter for any flame.

FAQ
Q: Do you have to ceimp the connector or is it just heat shink and its done

A: Just heat up. That's it
Q: No i mean to connect two wires together. that will be going into my fuel tank. i see guys do it but i'm not too sure. so i'm seeking help

A: It depends on how close to the tank the splice is. NEVER use an open flame heat source because of the possibility gasoline vapors. If it is close to the tank you would be better off using a crimp style connector and for better insurance against weather and ect. cover the connection with RTV to seal it against the weather.
Q: Why cannot we get a mutikit with bloody 8 awg butt solder joins? why such an issue?
A: I would guess that they do not have enough solder, in the joiner, to be effective. Or there is not much call for that gauge wire, they can not be all things to all people. For that, strip the wires, place some shrink tubing on one of the wires, solder, let it cool, slide the shrink tube over, shrink it.
Some times, when there is sufficient wire length, I place two different size shrink tube,. shrinking the smaller one first, letting it cool. The slide the larger one over the other.

Shipping
When your order is shipped, you will receive an email with a tracking number that links to the carrier service website.
We work hard to ensure that all items are received in good condition, and if you've received a damaged item, we sincerely apologize for any inconvenience. Please reach out to our customer service team at (86)19941100855or email us at admin@wahsure.com. We will do all we can to remedy the situation—either by sending a replacement item or by refunding your order—and we'll help you to return the damaged item at our expense.
We do our very best to process and deliver orders as quickly as possible. Wahsure's stocked items will usually ship within 1 business day. Depending on your location, you should receive these items within 3 to 10 business days. However, processing and delivery timeframes can vary significantly depending on the product.