WAHSURE 500/Pack,Red Winged Wire Nuts Twist-on Electrical Wire Connectors,Spring Insert Ribbed Caps 18-8 AWG,HP13 Type Household Purpo
● Character:wire arranges
from 22 to 10 AWG
● Applications: Widely used in all kinds of electrical products, lighting and home wiring equipment
● Feature: Peelwire coat, insert the wire in, then tighten.
● Material: PVC, with spring inside
● Certificated: UL
Wire connector P13
To be sold only with installation instructions
Instructions:
1. Turn off power before installing or removing connectors.
2. Select the appropriate wires according to the below wire combinnations and each wire shall be stripped with appropriate stripping length of 23mm
3. Before insertion into the connector,wire strands shall be reshaped with ends even.However,pre-twisting is unnecessary.
4.Tighten connector clockwise and make sure wires are installed firmly after wires are fully inserted into the connector.
5.Push wires into connector and screw on until two twists are visible in wires.
FOR USE WITH COPPER TO COPPER
Insulation Temperature:105℃(221℉)
Flammability:V-0
Voltage Rating:300V Max.
Listed as a PRESUURE-TYPE wire connector on the following solid and/or stranded wire combination:
For UL Listed to U.S. and Canadian safety standrads
(4) No.12 (3),(4) or (5) No.14 (3),(4) or (5) No.16 (1) No.12 with (4) No.14
Item
Material
PVC, with spring inside
Character
wire arranges from 18 to 8 AWG
Certifications
SGS Certificate, ISO9001, ISO14001, IATF16949, UL, CE 
Model
PT, RT, SS
Quantity
500
Color
Red
Returnable

90 DAYS

Manufacturer Warranty

1 Year Limited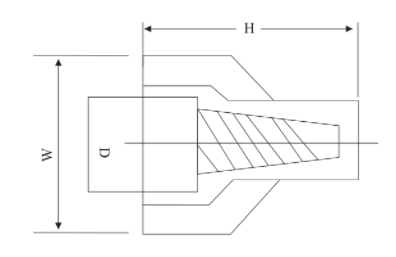 Wire Nuts Item No.
H(mm/in)
W(mm/in)
D(mm/in)
SUITABLE WIRE 
COLOR
HS-HP13
30.5/1.2
23.1/0.91
12/0.47
18-8
Red

A variety of uses

Shipping
When your order is shipped, you will receive an email with a tracking number that links to the carrier service website.
We work hard to ensure that all items are received in good condition, and if you've received a damaged item, we sincerely apologize for any inconvenience. Please reach out to our customer service team at (86)19941100855or email us at admin@wahsure.com. We will do all we can to remedy the situation—either by sending a replacement item or by refunding your order—and we'll help you to return the damaged item at our expense.
We do our very best to process and deliver orders as quickly as possible. Wahsure's stocked items will usually ship within 1 business day. Depending on your location, you should receive these items within 3 to 10 business days. However, processing and delivery timeframes can vary significantly depending on the product.
If you have any questions about processing time and/or expected delivery timeframes for your order, please don't hesitate to contact us at (86)19941100855